Top 5 Things To Consider When Choosing an Internet Service Provider
24 May 2023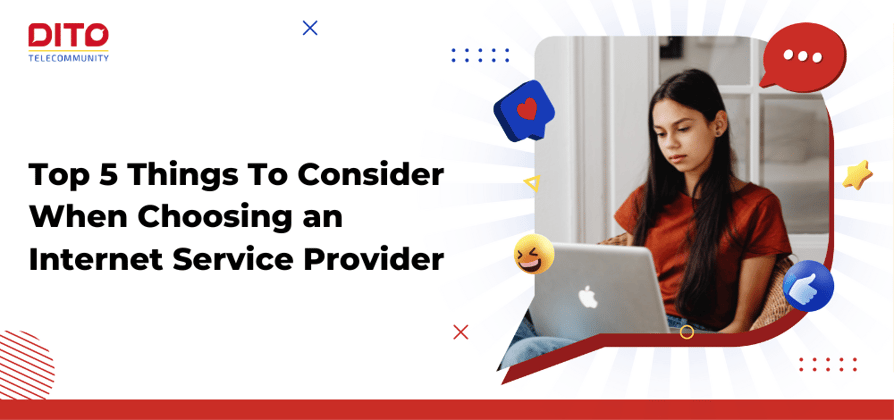 Introduction
You cannot overstate the importance of high-speed internet. It is crucial for people who work from home because they need a reliable connection to attend virtual meetings, send important emails, and complete all their tasks at hand. Students can definitely benefit from the fast internet, as well, especially when researching for school projects or attending online classes.
Plus, even if you don't use your home internet for work or school purposes, fast and reliable internet access can still benefit you. Watching films, streaming music, or browsing social media will be much more enjoyable with a high-speed connection. You won't have to feel frustrated because a video or photo isn't loading fast enough.
Today, 5G internet is already available, and its speed can reach up to 500Mbps. This means you are unlikely to experience spotty connection when attending virtual meetings, joining online classes, or just streaming your favorite movies or music. It's crucial to find a trustworthy 5G internet service provider, but don't worry because this article can teach you how to do just that.
Choosing a 5G Internet Service Provider
There are many factors to consider when choosing a reliable 5G WiFi provider for your home. Here are a few examples:
Availability in Your Location
In the Philippines, 5G is a relatively new technology, so it is only offered by certain internet service providers in select locations. When choosing a network to partner with, be sure to check if they can provide you with 5G internet in your area.
You might wonder, "how can I find the best 5G internet provider in my area." Asking your neighbors can help, as well as joining internet forums. This gives you enough information about different networks to make a better decision.
Reliability of Connection
A spotty connection can be extremely frustrating. This is especially true when you're in a virtual meeting with your bosses or researching for a school project. The same is true if you stream your favorite movie and it keeps getting paused because of lags.
If you don't want to endure that any longer, you can switch to another internet service provider. Choose a new one that offers a reliable connection. Be sure to read reviews of their current subscribers to get an idea if they can provide you with the required speed and reliability.
Customer Service
There are rare instances when you might experience problems with your network. It's even more frustrating if you don't know why it happened and how to resolve it. In these cases, your network provider's hotline should come in handy!
For this reason, it is vital to choose an internet service provider with stellar customer service. It should be easy for you to reach out to them if you experience any network trouble. Also, they should resolve the issue promptly and not make you wait days or weeks before fixing your problem.
Service Rates
One of the most significant factors to consider when choosing an internet service provider is the amount you must pay. If your preferred network offers their services at a high price that's out of your budget, you can't do anything but find another option.
Reliable internet service should not be too expensive. Thankfully, there are telcos that offer budget-friendly plans. These promos make 5G network accessible to everyone because they provide subscribers with reliable internet connection at an affordable rate.
Speed of the Internet
Of course, you should consider overall internet speed, too, when picking a network provider. There are telecommunications companies that provide up to 500Mbps for internet browsing without asking too much every month. Partnering with such telcos allows you to enjoy high-speed internet without ever hurting your budget.
Your Trusted 5G Internet Service Provider
Your search for a reliable provider of high-speed internet ends today! With DITO Home 5G, you can enjoy up to 500Mbps internet speed in different locations in the country. With this, you can have peace of mind that you won't experience any delays or lags when joining virtual calls for work, researching for school projects, or streaming films and music for entertainment.
There are two ways to access DITO Home 5G. We have prepaid plans starting at just ₱590, which provide 100GB of consumable data valid for 30 days with our double data promo. However, we also have unlimited data promos that are valid for 30 days. If you wish to enjoy our prepaid plans, you must get a starter kit comprising the modem, a DITO SIM, and more.
Don't worry if you think our prepaid services aren't for you. We also have postpaid 5G plans that you can enjoy for as low as ₱990. It already includes 200GB of monthly data that can be rolled over to the next month if you have any remaining data balance. Our most valuable promo is at ₱1490 with unlimited monthly data. The best thing about our postpaid plans is that you don't have to buy a separate kit to access it; the modem cost will be included in your bill for the first few months.
You might wonder how to enjoy our DITO Home 5G. That's easy because there are different options, and you can choose the most convenient one for you. Our online form is readily available on our website, so you can fill it out and submit it electronically. Alternatively, dial our hotline 185 and speak directly with our agent. If you have the time, you can visit the nearest DITO partner store and request assistance from our staff.
Conclusion
Finding a reliable 5G internet provider is crucial for you to enjoy this new tech to its fullest. If you are searching for one, look no further than DITO. We are your partner when it comes to a high-speed internet connection that you and your family can enjoy at home. Our budget-friendly promos allow every household to enjoy 5G network, as well.
Learn more about DITO Home 5G by sending us a message or visiting our partner stores. Our staff members are all knowledgeable about our services and are more than qualified to offer you the assistance you need.