Get your work done in a flash with
DITO FLASH 5G
HOME WiFi POSTPAID
Enjoy up to 500Mbps+ internet speed for less than P1,000 monthly!

Double data allocation for the first three months and Bonus Prime Video for 30 Days (For subscriptions January 26, 2023 onwards)

5G modem/router bundled into your monthly fee!
GET DOUBLE DATA TODAY!
ALL DITO FLASH 5G HOME WIFI PLANS INCLUDE: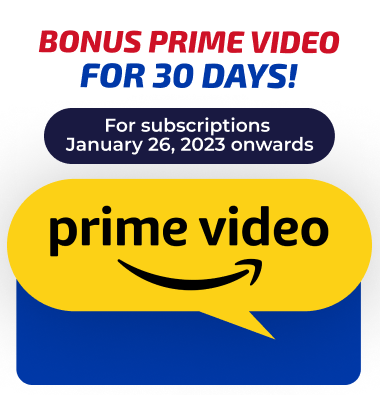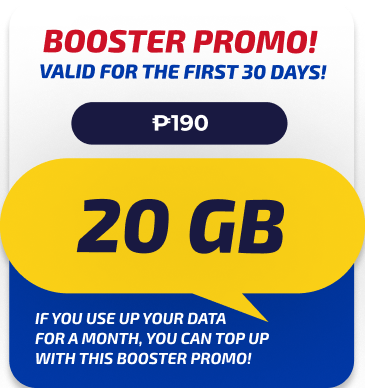 FAQs: All about DITO FLASH 5G Home WiFi Postpaid
What is the DITO FLASH 5G Home WiFi Postpaid?
It's the postpaid broadband subscription of DITO Telecommunity that delivers up to 500Mbps+ 5G-fast internet speeds straight to your home!
Aside from being postpaid, what's the difference between this and your prepaid service?
The biggest difference is that, with the postpaid service, you don't have to buy the DITO FLASH 5G HOME WiFi modem/router separately. It's included with your postpaid plan.
Where is the DITO FLASH 5G Home WiFi Postpaid service available?
Do I need to provide any documents if I sign up?
Yes, you just need to provide us with the following:

1) One valid ID
2) A proof of billing

Proof of billing includes the following:

1. Utility bills (i.e. water, electricity, internet, landline, mobile phone, association dues)
2. Bank-issued documents (bank statements, credit card bills)
3. Others: Club membership SOA, insurance premium SOA, barangay certificate of residence, notarized lease of contract, Pag-Ibig Housing SOA, airway bill/proof of shipping
What are the DITO FLASH 5G Home WiFi Postpaid offers?
There are four DITO FLASH 5G Home WiFi offers: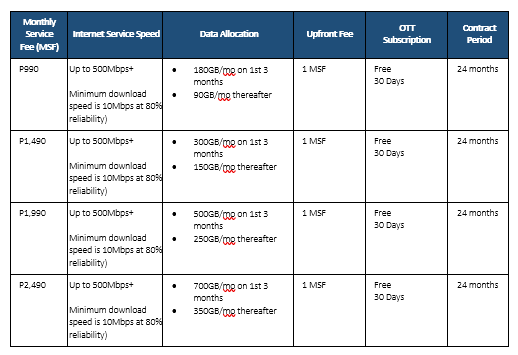 All plans provide bonus data for the first 3 months. Plans revert to their original data allocations per month thereafter
All plans include a 30-day Prime Video subscription (For subscriptions January 26, 2023 onwards)
All plans support DITO Rewards - which you can redeem for other goodies!
All data plans support data rollover - Leftover data from the previous billing cycle can be carried over to the next billing cycle, but not beyond that
When do I pay the 1 month service fee upfront change?
You can pay your 1 month service fee after the DITO FLASH 5G Home WiFi is installed at your installation address. The amount will be deducted from your first bill.
Can I pay the upfront fee before the DITO FLASH 5G Home WiFi is installed at my installation address?
No, you may pay only after the DITO FLASH 5G Home WiFi is installed at your installation address.
When does the data allocation on a DITO FLASH 5G Home WiFi Postpaid Plan replenish?
Your monthly data allocation replenishes during your billing cycle (for example every 10th of the month).
When if I run out of data between my billing cycles?
If you run out of data between your billing cycles, you can get more by availing of the Booster Promo on the DITO APP, which will be charged to your next bill directly. You can find out more about the Booster Promo below:


Postpaid Booster Promo (with DITO Rewards & data rollover)

The Booster Promo is valid for 30 days

Multiple Boosters can be availed as long as these are supported by your credit limit

If multiple Booster Promos are availed, the data validity of the older Booster Promo will extend to the end of the validity of the newer Booster Promo
What if I don't subscribe to a Booster Promo after running out of data?
Once you use up your monthly data allocation, you'll no longer be able to enjoy our high-speed data. But you'll be able to enjoy high-speed data again once you top up with a Booster Promo or when your data refreshes during your next billing cycle.
What if I have data from both my regular Postpaid Promo and my Booster Promo, which one gets used up first?
The data from your Booster Promo will always be used up first.
What happens if I terminate my postpaid subscription before the end of my contract period?
If you cancel with us before your contract period is up, you'll have to pay a pre-termination fee based on our policy:
Pre-termination Fee (PTF) = MSF x remaining number of months
What happens if I complete my 24-month contract period?
Once your contract ends, you can choose to voluntarily terminate your service without penalty, or you could continue to use the DITO FLASH 5G Home WiFi service at the same quality and at the same monthly rate.
Where can I monitor my Postpaid data usage?
You can monitor your data and usage via the DITO APP and MyDITO.
Where can I pay my bill, and how?
You can pay your bill using the following payment channels:
1. DITO Experience Stores
2. Via DITO APP online payment
Debit or Credit Card (Visa, Mastercard and JCB)
GCash
Maya
GrabPay
WeChat Pay
3. Pay & Go payment kiosk
What is my bill due date?
Your due date is every 25th day from your cut-off date.
How do I view and download my bill on the DITO APP?
Log-in to the DITO App and select "VIEW PDF BILL". You will be able to view your current month's bill and your previous months' bill - up to 12 months back.
My account was disconnected while I still had some data left - will my data still be there once I'm reconnected?
Yes, your unused data will be waiting for you once you're reconnected.
Can I switch from DITO FLASH 5G Home WiFi Postpaid to Prepaid or vice versa?
No, that isn't allowed at the moment.
How will I receive my bill?
You will be receiving your Statement of Account electronically via email. We'll also be sending you a notification once your bill is ready.
How do I earn DITO Rewards with my Postpaid Plan?
You earn points based on the amount you pay on your postpaid plan, as well as which channel you paid your account through.
How many points do I earn with each payment?
If you pay your postpaid plans via the DITO App or MyDITO, you earn 3% from each payment. If you pay through our partner channels such as GCash, Maya (previously Pay Maya), etc., it's 1% from each payment.
Where can I redeem my DITO rewards?
You can redeem your rewards on the DITO App by clicking on the Rewards icon. Use your earned DITO Points to redeem data rewards or vouchers from food, essentials, gaming, shopping and more! Stay tuned for more exciting rewards!
Where can I apply and avail of the DITO FLASH 5G Home WiFi?
You can visit any of these (8) DITO Experience Stores in NCR:

Glorietta
Greenhills
Robinsons Galleria
SM Manila
SM Megamall
SM North EDSA
SM Southmall
Udenna Tower

You can visit either of these 2 DITO Experience Stores in Cebu City:

SM City Cebu
Robinsons Galleria Cebu

You can call the 185 hotline
At the DITO booth in your community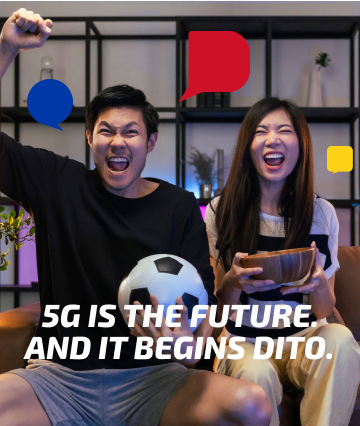 GET YOUR DITO FLASH 5G HOME WIFI POSTPAID AT A DITO EXPERIENCE STORE NEAR YOU!
Glorietta

Greenhills

Robinsons Galleria

SM Manila

SM North Edsa

SM Southmall

Udenna Tower

Robinsons Galleria Cebu

SM City Cebu



Or contact the DITO representative at your community!