7 Work-From-Home Jobs That Benefit From a 5G Internet Connection
24 May 2023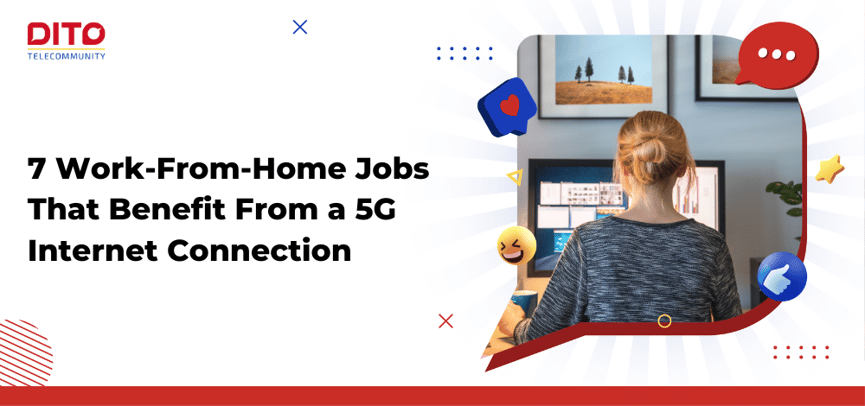 Introduction
Many companies are starting to offer the work-from-home option to their employees. It helps workers save up a lot of resources because they do not have to spend any time and money on their daily commute. Meanwhile, businesses no longer have to pay high costs to rent a large office where all their staff can work.
A high-speed internet connection is among the minimum requirements to become a full-pledged WFH professional. If you have a 5G internet connection at home, there are plenty of job opportunities that you might want to try. This article lists a few employment possibilities a 5G network can help open for you.
WFH Jobs That Might Require 5G Connection
Not everyone in the Philippines has access to 5G internet. It's a relatively new piece of technology, so it's only available in some cities and provinces across the country. If you are among the lucky ones who can enjoy this high-speed and reliable network, there are many employment opportunities that you can take advantage of.
Of course, your skills and experience are still significant factors to consider. However, if you have 5G internet at home, there's no harm in venturing into these fairly lucrative job opportunities:
Virtual Assistant
Companies from all over the world prefer to hire people from the Philippines whenever they need virtual assistants. This job offers higher pay and better flexibility than many office-based opportunities, so it's unsurprising that many Filipinos try to apply for these positions.
Virtual assistants do a lot of online tasks, including managing emails, answering calls, and even making travel arrangements for other people in the company. Since all the work is done online, having access to a fast and reliable internet connection is crucial. This way, you can ensure that you can perform all your responsibilities and submit your day-to-day deliverables without delay.
Remote IT Technician
The IT industry is quite lucrative, so people who have tech-related jobs are typically paid a high salary. This is especially the case if you have competitive skills and experience that can help you land a position in one of the biggest tech companies in the world.
It's a good thing, too, that the IT industry now offers many remote job opportunities, so work-from-home professionals are very much welcome to apply. Of course, since you are completing all your tasks online, it's imperative that you have a high-speed internet connection. It's better to look for a 5G network provider to get access to fast and reliable internet that you can use for your work.
Customer Service Representative
The call center industry in the Philippines is booming, so business process outsourcing companies are consistently looking for applicants. In many cases, they hire customer service representatives, too, who handle complaints from customers of different companies worldwide.
It's not an easy job, but it can be pretty lucrative if you stay in business for a while. Today, these positions can be done online, too, so you don't have to travel back and forth to the office just to report to work. However, your employer will most likely require you to have access to reliable internet to prevent any delays that might affect the experience of the customer you're handling.
Social Media Manager
Companies need social media presence to reach more customers. However, with different platforms available today, running all of them is becoming harder and harder. For this reason, businesses typically hire social media managers to post updates on their accounts and sometimes answer private or direct messages.
To become a good social media manager, you must be adept in different skills, such as copywriting and photo editing. Of course, aside from these requirements, you must also have a stable internet connection at home.
Competitive Gamer
Some people have successfully turned their hobbies into jobs. Among them are pro gamers. Of course, it takes many skills to enter the world of competitive gaming, but the doors are wide open for you if you can invest the time and effort to build up your platform and improve your abilities.
Immense gaming passion is just one of the requirements, however. You must also invest in high-end equipment like monitors, headphones, and processors. A fast and reliable internet connection is essential to be at the top of your game consistently.
Content Creator or Influencer
Believe it or not, content creators earn a lot. Many people think that all it takes is confidence to become successful in the field, but that's not necessarily the case. The job, after all, is more than simply posting "content" on different social media platforms and engaging as many viewers as possible.
Thinking of unique content to publish already takes much effort. Creating a script and then filming and editing videos is time-consuming. Of course, apart from being creative, you must invest in superior-quality gear such as cameras, ring lights, computers, and other devices. High-speed internet is also a must-have.
Live Online Seller
Online shops are becoming increasingly popular because it's convenient not just for customers but also for retailers. Those who engage in this business are looking for different ways to make their online store unique and engaging to potential customers, and that's why many try to sell their items through live-streaming.
Live online selling requires confidence, but more than that, what you need is a stable internet connection. Your camera needs to be switched on the entire time because you need to show your products. You can't have lags or delays because your potential customers might leave if such incidents happen.
Budget-Friendly 5G Home Internet for You
You don't have to go out of your budget just to access a 5G network or home broadband service. It's a good thing that DITO Telecommunity offers affordable promos for people who want to enjoy high-speed internet without paying too much every month via the DITO Home 5G service.
We have prepaid options that start at just ₱590 with 100GB of data consumable for an entire month, as well as unlimited data promos at ₱1,090 per month. If you think prepaid isn't for you, we also offer postpaid plans. The lowest is at ₱990 per month, which can provide you with 200GB of data that can be rolled over to the next month if not used completely. Meanwhile, our unlimited postpaid plans cost ₱1,490 monthly.
There are convenient options to subscribe to DITO Home 5G, too. You can fill out our online form and submit it through our website. Our hotline 185 is also available to take your call, so you can speak with our agents and seek assistance with our 5G services. Of course, our partner stores will always have their doors open for you if you want to talk face-to-face with any of our staff.
Conclusion
Having access to 5G internet at home opens a new world of possibilities for you, especially in terms of employment. The ones listed above are just a few of your options; there are many other positions you can apply for, as long as you have the skills, experience, and, of course, a reliable internet connection.
If you're still on the lookout for a provider of high-speed internet in the Philippines, try our services here at DITO. Our DITO Home 5G is extremely beneficial for people who want to become a WFH professional. Learn more about this today by contacting us.