DITO expands e-loading channels for subscribers with Bayad partnership
25 August 2021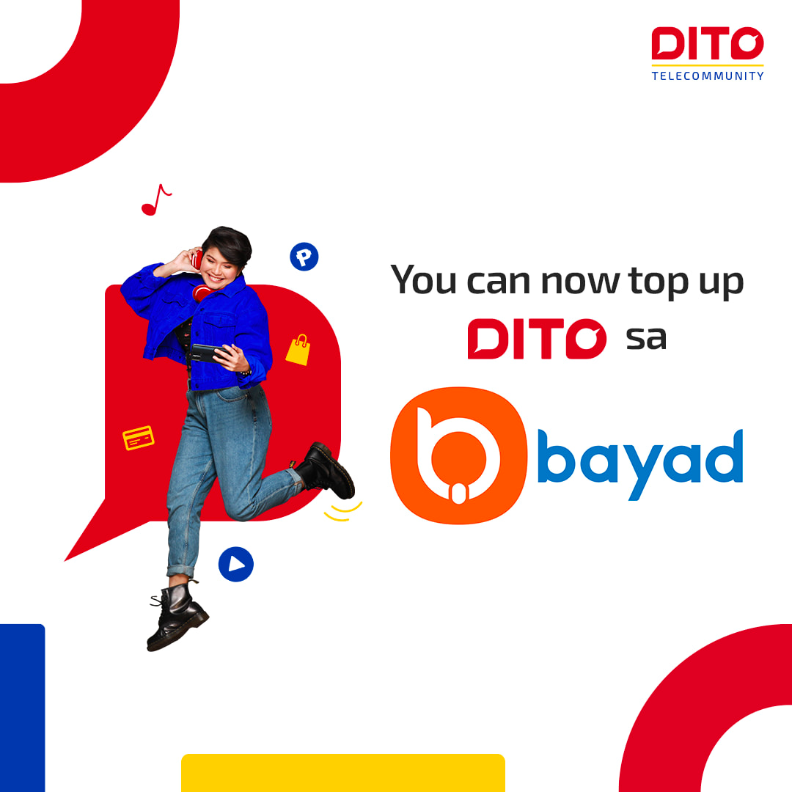 Bayad, the country's trusted brand and authority in payments, has teamed up with DITO Telecommunity Corporation, the newest major local telecommunications company, to provide a safer and more convenient way for users to reload their prepaid mobile numbers.
Recognizing the Filipinos' clamor for stronger connectivity, DITO remains committed to providing reliable, value-for-money, and high-speed data services that allow them to nurture their relationships and connect with their loved ones across the country. DITO has gained over two million users in less than a year after its commercial launch. The newest telco player offers generous prepaid plans valid for 30 days with high-speed data and calls and texts to other mobile networks.
Under the collaboration, DITO subscribers can go to any of Bayad's 1,462 participating payment touchpoints to conveniently purchase load and mobile data bundles. This gives customers an extra level of convenience and security as they can reload and manage their monthly transactions efficiently all under one roof. They can take advantage of Bayad's extensive network of biller partners and pay different types of bills from electricity, water, internet, cable, telephone, government fees and contributions, loan payments, and more. DITO subscribers can also buy their mobile load on Bayad App and Bayad Online, an extension of Bayad Centers, offer the same, hassle-free, and reliable payment acceptance that is available 24/7.
Bayad's partnership with DITO supports the payment platform's thrust to continuously expand its service and solutions portfolio as well as its biller, and channel partner network.
"Since we launched in March 2021, we have remained committed to expanding our services to new cities and new channels, in order to reach more Filipinos nationwide. Through this partnership with Bayad, one of the most trusted brand and authority in payments, we can reach even more Filipino communities and make DITO products and services conveniently accessible to them," said DITO Sales Director Angel Mercado.
"At Bayad, we are continuously looking for creative and innovative ways to leverage our physical and digital channels and make our services more accessible to consumers. On top of delivering payment convenience and security, we are thrilled to be working with DITO to ensure that our communities have access to load and connectivity, especially during these challenging times," said Bayad President and CEO, Lawrence Ferrer.
Businesses looking to partner with Bayad can email bcs@bayad.com or call +63 998 962 4552. Meanwhile, businesses interested in leveraging Bayad's network and seamless bills payment solutions may reach out to billeronboarding@bayad.com, call +63 998 963 7880 or fill out Bayad's biller onboarding form to get started: https://link.bayad.com/BeABayadBiller