A Hot Deal for Every Gamer: Enjoy DITO's High-speed data with every purchase of Infinix HOT11S
1 November 2021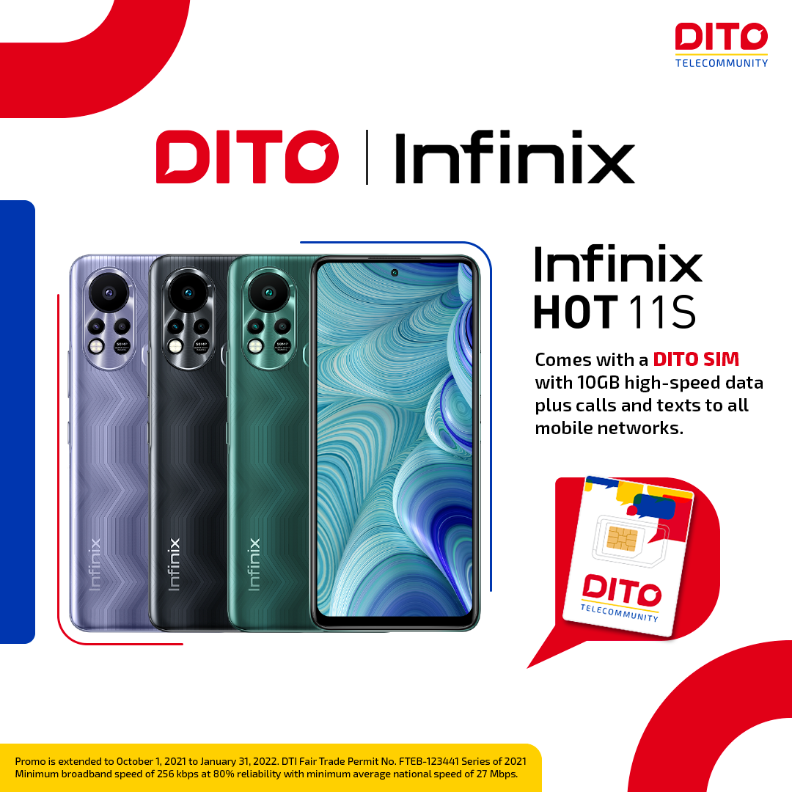 Manila, Philippines, November 2021 – Newest telco player DITO Telecommunity and emerging global smartphone company Infinix Mobile team up to treat Filipino gamers to an ultimate mobile gaming experience. Starting today, you can get the Infinix HOT 11S (64GB) handset from their official Lazada store with a DITO SIM inclusive of 10GB high-speed data valid for 30 days, while on November 8, you can also purchase the Infinix HOT 11S 128GB handset also bundled with DITO's high-speed offer.
Made specifically for gamers' needs, the Infinix Hot 11S is powered by MediaTek Helio G88 and a 5,000mAh battery with 18W fast charging. Suited not just for gaming but also for browsing and entertainment, the Infinix Hot 11S also comes with a 6.78-inch FHD screen with a 90Hz refresh rate for a remarkable visual experience. Another note-worthy feature is the Infinix Hot 11S' triple rear camera with 50MP main shooter providing an overall easy shooting experience even at night! With such features, you will find it hard to believe that this handset only costs Php 6,990.00 for 64GB and Php 14,990 for 128GB.
A perfect combination to the Infinix Hot 11S? the DITO SIM card with 10GB high-speed data valid for 30 days! Powered by DITO's stronger connectivity and value-for-money promos, users can truly experience next-level gaming and entertainment. DITO's promo also comes with unlimited texts to all networks, unlimited DITO-to-DITO calls, and 300 minutes of calls to other networks.
This irresistible deal is available on Lazada starting October 28, 2021.