12 Ways DITO Enhances Pinoy's Digital Lifestyles
5 September 2022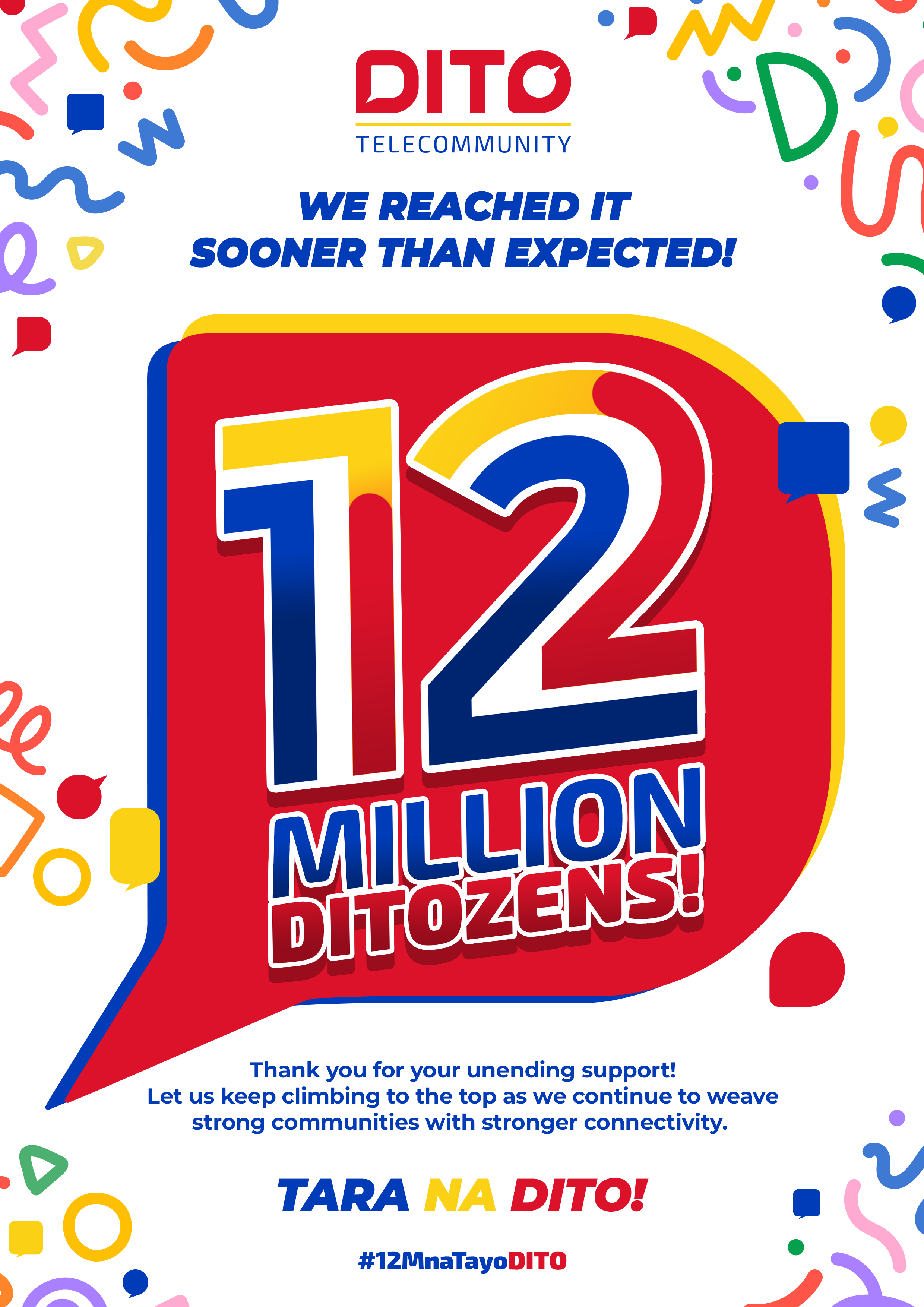 Why 12? Because now, more than 12 million Filipinos are enjoying a leveled-up digital lifestyle thanks to DITO Telecommunity, the country's fastest-growing telecommunications provider.

For its subscribers, DITO opens up a whole new universe of possibilities, like connecting with people, engaging with communities, and learning new skills and passions, via the promise of 5G technology and high-speed data connectivity.


DITO points out that its primary growth driver is the overwhelming trust and growing patronage of its subscribers from all over the country. All these DITOzens share an overall positive experience when it comes to reliability of connection, simplicity of products and services, and most importantly, real value for money.


As DITO celebrates their 12 millionth subscriber (and counting), let's count the ways it uplifts our digital lifestyles through its current innovative product offerings—the very reasons more people are making the switch.


1. Leveling up digital experience. DITO Level-Up Packs let you select from five best-value offers featuring generous data, unlimited DITO to DITO calls, 300 minutes to other mobile networks, and unlimited texts to all mobile networks, all valid for 30 days. Find exactly what you need as your options range from DITO Level Up Pack PHP 99 with 7GB data, PHP 199 with 16GB data, PHP 299 with 28GB data, PHP 499 with 55GB data, or PHP 999 with 128GB data.

Go ahead and resubscribe before your favorite plan expires! Unused consumable data and calls to other mobile networks will roll over to your new subscription with the longest validity. Best of all, you can use the DITO Auto Pay or DITO Advance Pay for an uninterrupted experience. Read on to learn more.


2. Turning on payment convenience. Do you tend to forget to renew your favorite DITO Level-Up Pack before the end of its validity, causing your unused data to expire? No need to worry about that because with DITO Auto Pay, no data or call allocations are wasted. Your data will automatically be carried over, as long as you renew 24 hours before your previous plan expires.

DITO Auto Pay delivers convenience to the max because it allows you to continuously enjoy the benefits of your plan without having to manually resubscribe monthly or when you've exhausted your data allowance. If you opt to renew your subscription, you can choose to enroll to DITO's Auto Pay via load, credit card, and debit cards with Mastercard and Visa for worry-free convenience.

Aside from getting a hassle-free and non-stop DITO mobile experience, you can also get bonus mobile data for every successful auto-renewal. Plus, you have full control over your data, calls, and texts because you can change or cancel DITO Auto Pay settings until 48 hours prior to the renewal of your current subscription.

3. Getting you ahead. Did you know you can get a full-year subscription for as low as Php 713? Giving real value for money, DITO Advance Pay enables you to buy data packs in advance valid for 3, 6, or 12 months, eliminating the hassle of monthly reloading and unlocking bigger data allowances with longer validities and discounted rates.

Availing of a 12-month advance subscription, for example, means you get to enjoy great service and perks such as up to 120 GB bonus data for as low as Php 713 per month, giving you about 40% savings. This breakthrough feature combines affordability, worry-free convenience, and a truly leveled-up mobile experience.

4. Welcoming you with Triple Treat. To give new subscribers a jump start on their exciting DITO journey, DITO is giving away up to 12 GB of open data as a welcome treat. New DITOzens automatically get 3GB data when they activate their Starter Pack SIM. They'll also get additional 3 GB data for their first three purchases of any DITO Level-Up Pack. All these bonuses are open data, which means subscribers can use them to enjoy any of their favorite apps. This welcome triple treat gives you more reasons to switch to a network that truly gives fast, simple, and easy-to-claim promo offers.


5. Pocket-sized, budget-priced open data. DITO Data Sachets are new bite-sized, data-only promos that give new and existing DITOzens a chance to enjoy high-speed, open data. Superior to other promos in the market today, the DITO Data Sachets feature Data 10, Data 20, and Data 50. With Data 10, get 1 GB open data for as low as Php 10, valid for one whole day. Data 20 packs in 2GB worth of open data valid for 3 days, while Data 50 gives 5GB of data for up to 7 days. DITO's Data Sachets are an all-access pass to more affordable, fun, and convenient digital explorations.

6. Unstoppable gaming and streaming. Ongoing until September 30, purchase a DITO Starter Pack bundled with DITO Level-Up 199 and get 2 GB bonus data consumable daily on Mobile Legends, Call of Duty Mobile, PUBG Mobile, and YouTube for 30 days! That's a total of 60 GB for gaming and entertainment on top of the 16 GB that comes with DITO Level-Up 199. What's more, you get a limited PUBG Skin and a chance to win free DITO premium items. To avail of this promo, buy the SIM through the DITO App, DITO eShop, Shopee, and Lazada. You can also check out DITO Experience Stores near you.

7. Staying on top of trends. DITO gets you—we all need that daily dose of viral TikTok and Facebook videos to stay on top of trends and stay connected with our loved ones and communities. Available until September 30, DITO is giving away extra 30 GB of data for TikTok and Facebook when you purchase a DITO Level-Up 99 bundled with a SIM. This valuable bonus data is valid for 30 days. If you can't live without Tiktok and Facebook, buy the DITO Level-Up 99 bundled SIM now at any DITO Experience Store, DITO eShop, as well as Shopee, and Lazada.

8. Lifestyle bundle packs. DITO understands that every DITOzen has their own needs. Avail of a DITO App Booster to enjoy 7GB App Access Data for only P50, with no daily data cap, valid for 7 days, and with a bonus of 1GB Open Access Data. The DITO App Boosters are affordable and flexible data packages tailored to your specific needs. Choose from three App Booster packages: Play It App Booster, Work It App Booster, and Live It App Boosters. All DITO App Boosters include access to YouTube, Facebook, Messenger, and Viber.

9. Bringing the 5G future into your home. DITO is bringing its fastest internet yet to Filipino homes through DITO 5G Home WiFi! Enjoy up to 500Mbps when you pick up the Starter Kit for only PHP 671.21 per month for 24 monthly installments with your BDO Credit Card! The Starter Kit gives you a whopping 50GB of all-access data to start you off, plus a 3-month subscription to HBO Go. And when you need to top up with more data, choose from our best-value plans currently packed with double data—100GB for PHP 590, 200GB for PHP 990, 340GB for PHP 1,490, and 500GB for PHP 1,990—each one valid for 30 days with data rollover and DITO Rewards that you can redeem for more data and other treats!

With a PHP 671.21 monthly installment, plus a PHP 590 minimum data load every 30 days, that's less than PHP 1,300 for a 500Mbps home broadband service each month! Not a bad deal for families with kids doing online classes, or breadwinners working from home. Plus, you can easily track and manage your 5G Home WiFi data usage using the DITO app. Check out DITO 5G Home WiFi at your nearest DITO Experience Store in Metro Manila today!

10. Rewarding you even more. Once you activate your DITO SIM cards, DITO automatically welcomes you to its rewards loyalty program where you can earn points whenever you buy load, subscribe to a promo, or update your account. Through DITO Rewards, you can use as little as 2 DITO points to enjoy various products, data offers, and lifestyle vouchers for dining, essentials, shopping, and gaming. Rewards can also go beyond the DITO Rewards Catalogue because you can use your DITO points to buy load and take advantage of promos.

DITO is always coming up with more ways for you to earn more points through monthly promos like Double UP DITO and Celebrate DITO where you can earn double points on double dates and earn triple points on widely celebrated Philippine occasions, respectively. Visit the DITO Rewards page daily to get updates on new rewards and exciting offerings.

11. Always within your reach. Whether you want to purchase a new SIM or make a switch, you can easily buy DITO's products, no matter where you are in the Philippines. DITO's list of partners and experience stores are growing fast, making its products more accessible to millions of Filipinos nationwide. DITO also offers a convenient shopping experience. Just visit DITO's flagship store on Shopee or Lazada to buy DITO SIM cards packed with extra promo offerings.

Managing your account has also been made easier and more convenient with the DITO App. Through DITO's mobile app, you can manage your account, check your balance, and monitor your data usage, calls, texts, purchase load, and other exclusive promo packages in just a few clicks. Download the DITO app to gain access to your account in real time. Available on Google Play, Apple Store, and App Gallery.

12. VoLTE and ViLTE are available here. DITO offers both VoLTE and ViLTE to its consumers, thus enhancing the DITO experience even more. Through VoLTE, subscribers can enjoy voice calls without compromising internet connection. With ViLTE, customers can do video calls from their devices without the need for video calling applications. These calls are also charged with the same rates as voice calls.

Undoubtedly, DITO has already helped level-up how Filipinos connect since its commercial launch last year. DITOzens continue to discover that telco services can be better, offerings can bring more value, and connectivity can be stronger.

DITO also prides itself on bringing Filipinos together. With now 12 million subscribers nationwide, DITO continues to weave telecommunities together and move the nation toward the global stage through excellent service and digital innovations.