How to activate LUNA Academy with DITO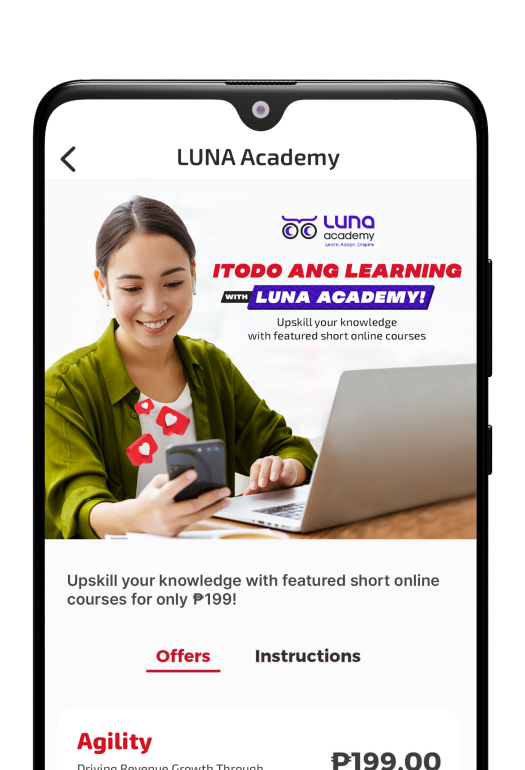 STEP 2:
Click "Buy App Subscription"
STEP 4:
Choose from the available short online courses
STEP 5:
Enter your DITO number and email address to receive the voucher code
STEP 6:
Pay using DITO load balance
STEP 7:
Go to https://bit.ly/DITOxLUNA and register/log-in to your account
Frequently Asked Questions
LUNA Academy is an online learning platform that provides high-quality,
industry-relevant,
widely accessible, and future-ready skills training wherein you learn
anywhere at any time.
What are the courses offered by LUNA Academy?
SAGE - Agility: Driving Revenue Growth Through Digital Marketing and Data Analytics

SAGE - Entrepreneurship: Building Successful Startups by Adopting the Gamer's Winning Mindset

SAGE - Grit: Achieving Better Business Results by Integrating Mindfulness Techniques

Watch out for more courses to be offered soon!
How much does your online short courses cost?
Our short online courses are available for only P199 per course.
Where can I subscribe LUNA Academy's online short courses?
You can subscribe to LUNA Academy online short courses directly from the DITO APP!
How can I redeem the online short course vouchers?
Where can I access the online short courses?
LUNA Academy Courses can be accessed from several different devices and platforms, including a mobile device, desktop or laptop.
Do I have to start my course at a certain time? And how long do I have to complete it?
There are asynchronous courses, which means you can begin the course at your own convenient time, and there are no deadlines to complete it.
Can I use my DITO load to subscribe to LUNA Academy online short courses?
Yes, you can use your DITO load to subscribe to your chosen online short course. Just log in the DITO App!