Top 7 Reasons To Take Advantage of DITO Advance Pay
18 July 2023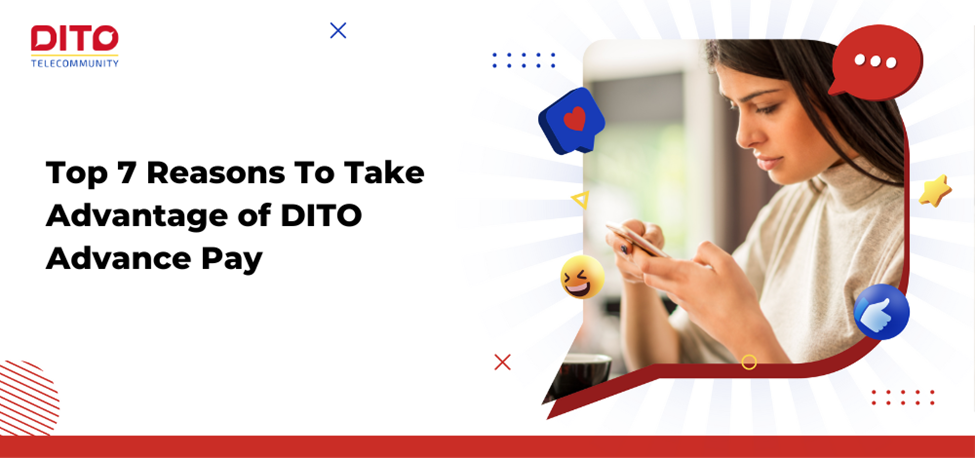 Introduction
At DITO Telecommunity Corporation, our main priority is to give our customers the highest quality of service. To do that, we offer many affordable promos and convenient options to subscribe to them. Our Advance Pay feature, for example, lets you pay for various data packs in advance. This means you no longer have to worry about subscribing to a promo again for a whole year, depending on the plan you get.
Aside from that, DITO's Advance Pay feature offers a great deal of other benefits. Here are a few more examples:
More Savings
One of the best things about DITO's Advance Pay is how affordable it is, especially when compared to the data promos offered by other telcos. Our most budget-friendly Advance Pay plan costs only ₱279, and with that amount, you can already enjoy 24GB of data for three months! On top of that, you'll get unlimited DITO-to-DITO calls, along with unlimited texts and 900 minutes of calls to other networks.
We also have Advance Pay plans that last longer, which are even more cost-effective for subscribers in the long run. With just ₱505, you'll get 48GB of consumable data valid for 6 months. This plan also includes unlimited DITO-to-DITO calls, unlimited texts, and 1,800 minutes of calls to other networks.
If you want a plan good for a whole year, we have them, too. The best part is that the most affordable plan only costs ₱713, and it has 96GB of mobile data, unlimited texts to all networks, unlimited calls to fellow DITO subscribers, and 3,600 minutes of calls to other networks.
Convenience
We get it. Going to the nearest telco office to settle your dues for your mobile plan can be a little taxing. But if you take advantage of DITO Advance Pay, you don't have to worry about that. In fact, you can pay for your plan without stepping outside of your home!
All you have to do is download our app and use it to subscribe to the Advance Pay plan that you want. Once you're logged into the app, you can click "Buy Promo" and select among the Advance Pay options. You can pay for the plan using different methods, such as your debit or credit card, e-wallet, or bank account.
Bonus Data
The lowest amount of data we offer right now is 24GB. That amount should be enough to browse the internet for over 200 hours or listen to more than 4,000 songs online. If you're a fan of movies, that much data will suffice for streaming about 48 hours of online videos in standard definition.
However, if that amount of mobile data isn't enough for you, we also provide bonus data with each of our Advance Pay plans. The best part is you don't have to pay extra. You'll get more bonus data if you subscribe to our bigger plans, so be sure to check out our various options to see their inclusions.
Add-Ons
Mobile data lets you do a lot of things already. If you wish to send a message or make a call, you can do so through different messaging apps or social media platforms. However, the sad truth is not everyone has the luxury to stay online, so it might become a problem if the person you wish to talk to is in a place that barely gets any mobile data signal.
In that case, good old texts and calls can save the day! Thankfully, these are included in all our Advance Pay plans. You'll get unlimited texts to all networks and unlimited calls to fellow DITO subscribers. It also comes with calls to other networks, ranging from 900 minutes for the 90-day subscription to 3,600 minutes for the whole-year plan.
Fast Internet
No matter how much mobile data you have, it will be useless if you can't access the internet. Thankfully, DITO offers a fast and reliable connection to our subscribers. You'll be able to use different social media platforms, stream your favorite music or movies, or browse the web without experiencing any lags.
We have over 4,000 cell towers nationwide, so you can expect a reliable signal almost anywhere in the country. We plan to erect more towers to give you and other DITO subscribers the highest quality of service you deserve.
Data Rollover
Even the lowest amount of data we offer might be too much for some people, especially if they don't go online often. You might think the extra data you don't spend will be wasted, but that won't be the case.
DITO's Advance Pay options have data rollover benefits that can help maximize your savings. This feature transfers the unspent data to your next subscription so you can make the most of it.
1-Year Subscription
Data promos from other networks typically last around one week to one month. After the promo expires, you have to repurchase mobile load and resubscribe. That setup can be a hassle, but thankfully, you don't have to experience that with DITO.
With our Advance Pay options, you can take advantage of our data promos for as long as 365 days. Subscribing to one of these plans means you won't have to go through the trouble of subscribing multiple times throughout the year. You can also have peace of mind, knowing you have available load for texts and call when you need it most.
Conclusion
Here at DITO, we try to make everything more convenient and affordable for our customers. That's why we continue to offer different promos that are not only budget-friendly but also packed with various features you can use.
Subscribe to DITO Advance Pay today! Get in touch with us for more information.