DITO Level Up Plan subscribers to enjoy Bonus 30-day Prime Video Mobile subscription
18 January 2023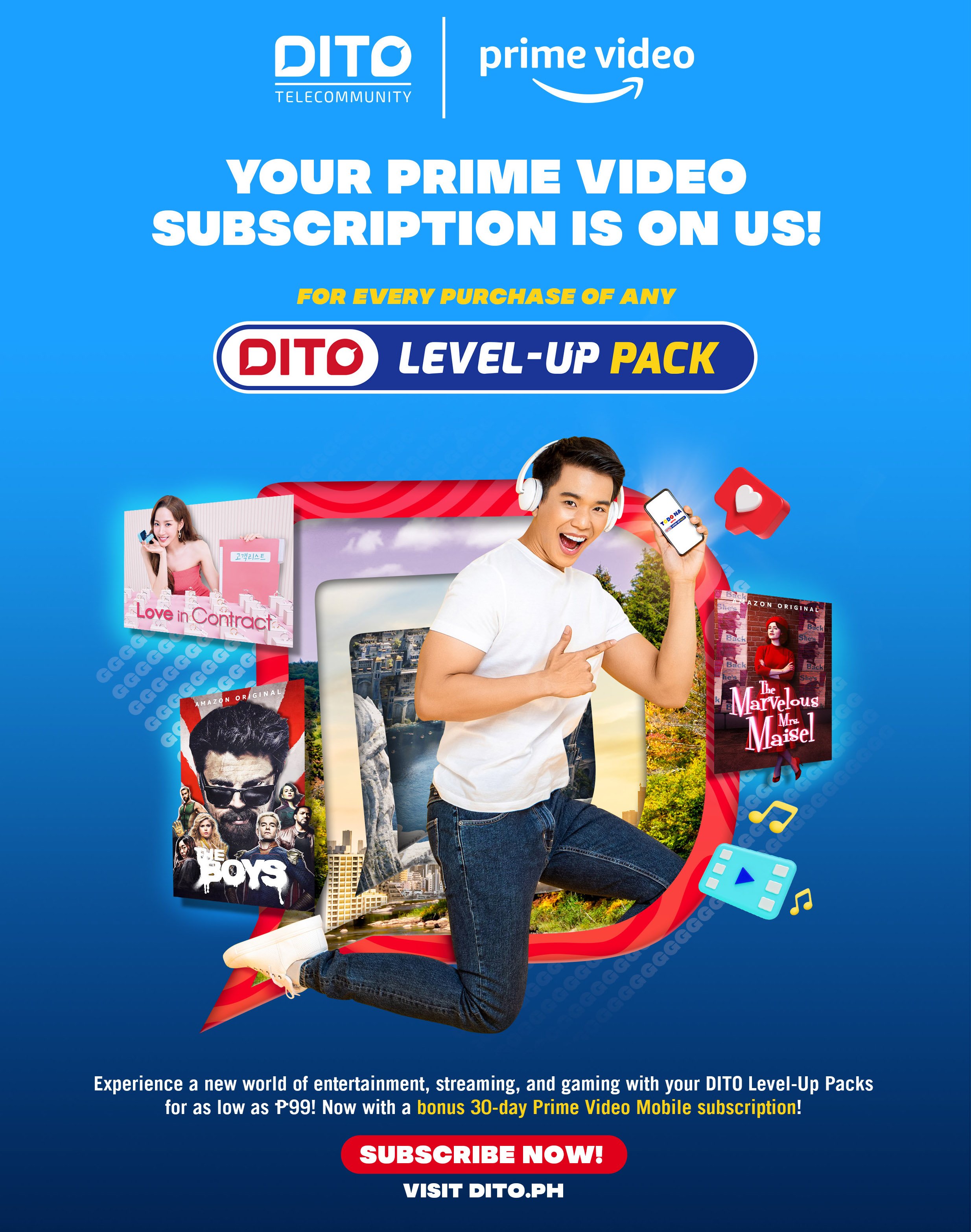 The entertainment possibilities with DITO Telecommunity soar even more as the newest telco player partners with Prime Video to provide a bonus 30-day subscription to the video streaming platform to customers who purchase a DITO Level-Up Plan.
DITO Level-Up Plans are the all-in subscriptions of DITO that allow customers to enjoy all-access high-speed data plus unlimited all-net texts, unlimited DITO-to-DITO calls, and 300 minutes of calls to other mobile networks for 30 days. Customers can choose from five DITO Level-up Packs: Plan 99 with 7GB for only P99, Plan 199 with 16GB for only P199, Plan 299 with 28GB for only P299, Plan 499 with 55GB for only P499, and Plan 999 with 120GB for only P99.
Upon purchase of a DITO Level-Up Plan, the customer will receive a text message, and in-app notification with the Prime Video voucher link. Simply download the Prime Video app to activate the voucher code and enjoy the bonus 30-day video streaming subscription. This offer is on Prime Video Mobile Edition.
"We want to take the digital experience of customers up a notch by adding more value to our DITO Level-Up Plans. Aside from an affordable data plan, Filipinos crave convenience and variety on their digital entertainment experience. That's what we want to give them by adding the Prime Video Mobile subscription as a feature of the DITO Level-Up plans," said DITO Telecommunity Chief Commercial Officer Evelyn Jimenez.
Prime Video is an American video streaming service popular for its award-winning Amazon Originals like Tom Clancy's Jack Ryan, Marvelous Mrs. Maisel, and the mega epic series The Lord of the Rings: The Rings of Power. The video streaming app also has a rich collection of Hollywood movies, popular TV shows, Anime, and Korean as well as Filipino dramas.
"Through our partnership with Prime Video, we aim to make our next-generation technology yield a well-rounded customer experience. We want our customers to enjoy a TODO NA DITO experience where they can feel the benefits of having strong connectivity in every aspect of their life—from business, work or school to recreational activities like watching videos online," said DITO Telecommunity Chief Administrative Officer Atty. Adel Tamano.
DITO Level-up Plans can be purchased via the DITO APP, MyDITO, DITO Experience Stores, partner retail stores, Lazada, and Shopee. Customers also have the option to purchase the Level-Up packs through the DITO Auto Pay and DITO Advance Pay features. DITO Auto Pay automatically renews the customer's data pack 24 hours before the expiration of the subscription or when the 500MB threshold is reached, while DITO Advance Pay allows customers to purchase months' worth of data packs in advance at a discounted rate plus bonus data.
The Prime Video Mobile subscription promo is open to all new and existing DITO prepaid mobile customers from November 28- May 27, 2023. Learn more at dito.ph/dlupluspvmaccess
Get a DITO Level-Up Plan now to enjoy an Amazon Prime Video subscription. To learn more about DITO Level-Up Plans, visit https://dito.ph/level-up-promos.